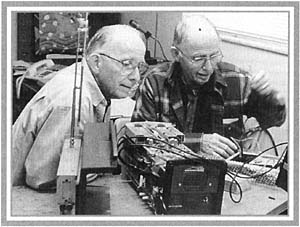 In Walt's shop in Florida, the 75-year-old Good twins work on a spectrum analyzer that was built by Bill.
Their historic R/C model airplane, which they affectionately named the "Guff," was presented to the National Air and Space Museum in Washington, D.C., in May, 1960, where it can be seen today.
Both brothers continued their education and subsequently earned doctorates in physics. After pursuing careers in electronics research and teaching, they retired, but they're still very active in electronics. Walt lives in Florida, and Bill resides in upstate New York. They communicate constantly with each other using theiri ham radios.
JOSEPH RASPANTE
No story on the early days of R/C would be complete without recognizing the work of Joseph Raspante. Unlike most of the early pioneers of WC, who were basically model airplane builders teamed up with ham-radio specialists, Joe Raspante was a superb designer and builder of early gas models as well as a competent electronic technician. His R/C system was unique in that he used a telephone dial to select various control functions. He placed second in the 1939 R/C Nationals and third in the 1940 event. Raspante was generous, and he shared his knowledge with young builders in years that followed.
Walter Good remembers that when thieves stole his brother's R/C transmitter from their hotel the day before the 1940 Nationals, Raspante offered the use of his own transmitter. This gesture was especially meaningful, because the Good brothers had defeated him in the 1939 Nationals.
Raspante finally won the first place he yearned for at the 1946 NY Daily Mirror contest at Grumman airfield. It was my privilege to see him fly there. With the advent of the transistor and the integrated microcircuits, today's R/C builder hardly has any of the frustrations of the early pioneers. In retrospect, however, we see that most of the pioneer's dedicated efforts were largely foiled by overly complex electrical designs.
But without their perseverance, I doubt that R/C flight would have progressed as quickly to where it is today.




The balsa frame that holds Guff's receivers- one for the rudder and one for the elevator- is 6 inches high. It's total weight is 14 ounces (less batteries.



Joe Raspante launches his R/C model at the 1946 NY Mirro Meet at Grumman Airport ni Long Island, NY.