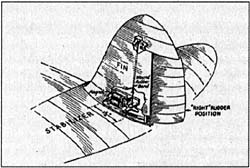 This is the rudder actuating control in the Good brother's model.
Walter Good was the only contestant who attempted a controlled flight in the face of the 20mph winds. Even though it ended in a crack-up, Walt was awarded first place. A truly convincing demonstration of R/C flight by a powered miniature aircraft would have to wait until the following year.
Eleven R/C fliers showed up at the 1939 Nationals at the Detroit Wayne County airport. For the first time, a 100-point system was adopted by the judges. Points were given for craftsmanship, actual R/C operation in a static preflight mode on the ground and a variety of flight maneuvers.
GOOD FLIERS
That was a rewarding year for Walter and William Good, 23- year-old twins from Kalamazoo, Michigan. Bill was a licensed ham-radio operator with the call letters W91FD.
Their aircraft, named K-G, was a slightly modified, high-wing monoplane. (See the K-G story in the January '91 issue of Model Airplane News.) This first stable gas model was designed by a former editor of Model Airplane News- Charles Hampson Grant.
Their radio and control mechanisms were the essence of simplicity. At a time when all of their competitor's planes carried receivers with 3- and 4-tube circuits, the Good brothers' radio receiver was a one-tube affair with a minimum of electrical components. Their homemade relay was so sensitive that it could be activated by a current change of 1/2 milliamp!