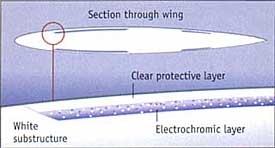 Disappearing Act
Future aircraft such as Lockhhed Martin's proposed Joint Strike Fighter might use visual stealth to blend into the sky. Sensors would measure the sky's brightness and hue and electrocromic coatings applied ove a white skin would change shade to match the background.



LOCKHEED MARTING'S
F-117A Nighthwawk stealth fighter
was the star of the Gulf War, flying
behind enemy lines to hit Baghdad
targets with pinpoint accuracy. At
night, the F-117 was unstoppable.
But by the black jet stayed on the
ground.

The F-117 isn't fast enough to outrun missles or agile enough to dodge them, and it can't fight back because it's armed only with bombs.