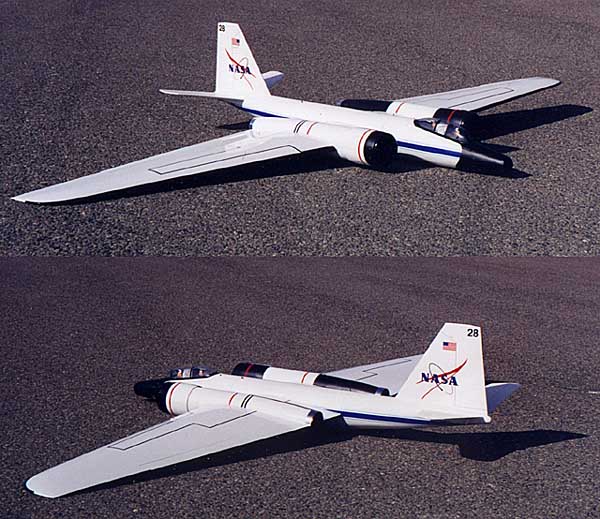 This is Dan & Daren Savage's scratch-built twin electric ducted fan WB-57N. Dan started with Koku-Fan 3-views and designed a sport airplane which looks a lot like a WB-57N. The "W" and "N" denotes NASA's designation for what's really a RB-57F ("W"eather and "N"ASA).
The model uses a balsa sheeted foam core wing using a Eppler 205 airfoil which was modified from a 15% to 12% chord thickness. The nacelles are molded fiberglass with the WeMoTec Mini 480 ducted fan units mounted directly to the forward section of the nacelles.
The fuselage is built using 3mm mahogeny doorskin bulkheads and keels sheeted with 3/32 contest balsa. No stringers are used to help save weight. The tail fealthers are 3/16 balsa sheet.
Initial test flights have indicated the WeMoTecs and Speed 480s are just the right combination light weight, ample thrust and low amp draw. Currently, with the factory timing on the motors and a fresh charge on the batteries, full throttle draws 15 amps. When flown to altitude without any thermal activity, we were able to get flight times of just over 8 minutes from hand launch to landing. Click here for more photos and video of the WB-57N in flight!

| | |
| --- | --- |
| Wingspan....... | 86 inches |
| Length............ | 50 inches |
| Weight........... | 5-1/4 lbs. |
| Motors........... | Graupner Speed 480 BB Race (2) |
| Fans............... | WeMoTec Mini 480 (2) |
| Batteries......... | 16 - KR1100AU |
| Flies............... | Great! Initial test flights indicate it's a winner. An extremely flat glide ratio! |