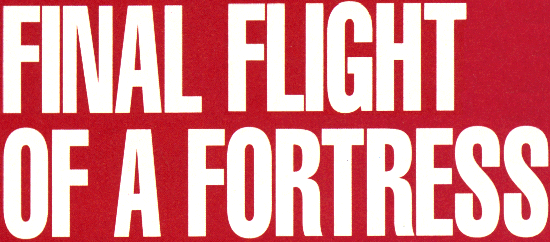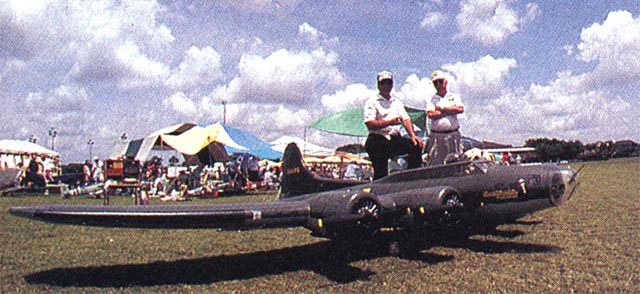 The B-17 on the flight line awaits its exhibition flight.
(Click on thumbnails below to see full sized images)

The largest model to fly at Top Gun (it didn't compete) was a majestic, 1/7-scale B-17 modeled on the Memphis Belle, which was the first Flying Fortress to complete 25 missions in WW-II. This R/C leviathan was less than a year old when it suffered the unfortunate mishap shown in the photos.

This magnificent B-17 was powered by four, 2.4ci Koritz engines, each spinning a three-blade Zinger 18x6-1O prop. Thousands of spectators were mesmerized as it droned across the sky, the sound of its engines resonating deeply in realistic scale flight.

Built and flown by Bob Campbell, of North Canton, OH, the 11-foot Fortress had a wingspan of 16 feet, 4 inches and weighed 98 pounds.


The plane rolls onto its back.

Its fuse was constructed entirely of foam sheeted with 1/8-inch balsa, and it was covered with 75 feet of MonoKote. Fifteen servos driven by a Futaba PCM radio activated its control systems.

In flight, its wings had been seen flexing slightly, but Jim Moorhead (Bob's flight-line assistant) said that the wing spars were made of aluminum with hard dowel cores and that the flexing was intentional. How did the midair breakup occur? At the end of a gentle left turn from altitude, the plane was lining up for an upwind, left-to-right, low-level pass.

As the nose came up at the bottom of the turn, its left wing folded. The crowd gasped as the model fell tragically and crumbled inta foam chunks well out on the flying field.