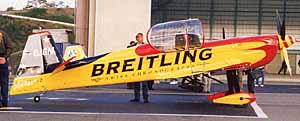 The Cap 232 is the latest in a long line of winning aerobatic designs from the French firm of Avions Mudry.
After he hsd been down lhere for a while, it was decided that he should take one of the fledgling air force's new Curtiss Hawk biplanes to the show in Miami to compete for the Freddie Lund Trophy as a conbination publicily and recruiting stunt.
While performing for the trophy, he decided to do a triple Avalanche: three snaps at the top of a loop. At the top of the loop. Len saw that he was carrying way too much entry speed for the snap, so he rode over the top; coming down the back side, he did a half-roll and pulled inro another loop, again half-rolling on the back side before pulling out.
The new maneuver was a minor sensation, and when Povey was asked by the assembled press just exactly what he had done, he offhandedly remarked that it was merely a "Cuban eight."
Bigger, better, faster, and stronger remained the rule of the day right up to World War II, when things aeronautical really got bigger, better, faster, and stronger. Aerobatics were once again a matter of pure survival for a new generation of combat pilots, and the fun was placed on hold.
After WWII, the biggest, most prestigious international aerobatic event in the world was the Lockheed Trophy, held annually in Britain. This event was not much like the rigorous current FAI aerobatic competitions. It was essentially a freestyle program, judged a lot like modern four-minute Free, with artistic impression counting far more than precision.