Introducing JMRC's newest member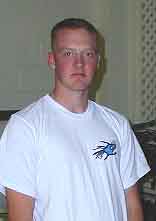 At press time, the club's newest active military member is Jeremiah Wheeler. Jeremiah is an active duty marine, stationed at Camp Pendleton.
He is blessed to have quarters in Horno area, and can see the club flying site from his home! Jeremiah had been utilizing the club's trainer plane under the guidance of Dan and Daren Savage.
After only 8 weekends of flying the trainer, Jeremiah soloed!! Our club has provided Jeremiah with his only experience with R.C. models. He is currently flying a trainer plane which was given to him by a fellow JMRC club member.
Jeremiah provided the electronics, and finished the construction of the plane. He is planning a civilian career in commercial aviation after he completes his four year stay in the Marines. Jeremiah loves full size flying, and has piloted two Cessnas as well as a Bell helicopter.
2000 INSTALLATION BANQUET


The first JMRC installation banquet of the new millennium is set for Saturday January 22, at 1800 (6:00 PM).

It will be held at the Staff NCO club, as usual. If you plan to attend, but have not informed Pete of your intentions, please contact him at (760) 732-3167, before January 15th.

The menu will be similar to what was available in previous years. It will include tossed green and Caesar salads, prime rib and chicken cordon bleu, roasted baby red potatoes and fresh garden mix medley veggies. The cost to the attending members is expected to be around $20.00 per person.

The beautifully played music will be provided by Richard Martinez. Master of Ceremonies is the "never at a loss for words" Sam Wright. Awards presentation to be performed by our Secretary / Treasurer Tommy Head.

The San Diego Aerospace Museum has agreed to provide a speaker for the JMRC banquet. It should be quite a treat!

If you are not sure how to get to the Staff NCO club…. go in thru the main gate in Oceanside. At the light, turn right. Take the first left and follow it to the end. The NCO club is on the left.
Hope to see you there!